Posts for: February, 2014
By Pasadena Dental Implants Peter G. Cooper, DDS
February 21, 2014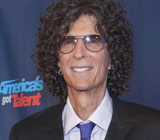 Is there anything that radio and TV personality (and self-proclaimed "King of All Media") Howard Stern doesn't want to talk about in public? Maybe not — but it took a caller's on-air question to get the infamous shock jock to open up about his own dental work.
When he was directly asked if his teeth were capped, Stern said no. "I redid 'em [some time] ago… I had bonding and um… veneers… over my real teeth. But I don't get that 'Hollywood white' though," he said, before adding his uncensored opinion on the subject of proper tooth shades.
As we're sure Stern would be the first to point out, everyone has a right to their own opinion. But we're pleased that Howard brought up an important point about veneers: They are custom-made in a whole range of different shades, from a more 'natural' tooth color to a brilliant white shine. Which one you select depends on what look is right for you — and that's your choice.
In case you aren't familiar with veneers, they are fingernail-thin coverings made of porcelain, which are bonded onto the surfaces of the teeth. This enables them to hide a number of defects — like chips, discoloration, and even small irregularities in spacing. They can also be used to lengthen teeth that seem out of proportion to the gums, lips or other facial features.
Veneers are among the cosmetic dental treatments most favored by Hollywood stars… as well as regular folks who want a dramatic improvement in their smile. Unlike crowns (caps), which generally require extensive reshaping of the tooth, standard veneers require the removal of just fractions of a millimeter of tooth surface. That makes them a minimally invasive method of smile enhancement that can make a big difference in your appearance. In fact, veneers are often a major part of a complete "smile makeover."
Dental veneers are custom made in a laboratory from a mold of your teeth. They are designed to fit your teeth perfectly — and to be just the shade you want. When you come in for a consultation, we will discuss what you like and don't like about your smile, and how we might improve it. Will you opt to get the brilliant "red-carpet" smile you always wished for… or go for a subtle, more natural tooth color? Only you can decide.
Howard Stern's veneers may be the most restrained thing about him… but we're just glad that veneers helped him get the kind of smile he wanted. You can, too. If you would like more information on dental veneers, please contact us or schedule an appointment for a consultation. You can learn more about this topic in the Dear Doctor magazine articles "Porcelain Veneers" and "Porcelain Crowns & Veneers."
By Pasadena Dental Implants Peter G. Cooper, DDS
February 05, 2014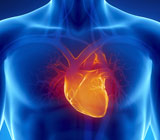 Your body's organ systems are interlinked — what happens in one system may affect another. An example of this is the interrelationship between periodontal (gum) disease and cardiovascular disease (CVD).
Medicine has discovered a common link between these two different conditions — inflammation. A result of the body's defense mechanisms, chronic inflammation is damaging to both your mouth and your heart. Inflammation can destroy the gum's soft tissue and underlying bone and lead to tooth loss. In the cardiovascular system, inflammation can begin and accelerate the buildup of plaque within arterial blood vessels (atherosclerosis). This inhibits the flow of oxygenated blood to both the heart and brain, which sets the stage for a heart attack or stroke.
Gum disease begins with poor oral hygiene. When brushing and flossing aren't performed on a regular basis, or not performed adequately, it allows a thin layer of bacterial plaque called biofilm to build up on the teeth. The bacteria cause infection in the soft tissues of the gum that triggers the chronic inflammation. Because it's often unaccompanied by other signs of infection like fever, a patient may not even be aware of it. There's evidence now that inflammation caused by moderate to severe gum disease can contribute to a similar response in blood vessels.
We can treat the gum disease and reduce or eliminate the inflammation. This first requires the removal of all plaque and calculus (harder deposits) on the teeth, down to the root level. It may require surgery to access these areas and to help regenerate some of the lost tissue and bone that support the teeth. It's also important to institute proper oral hygiene — effective daily brushing and flossing, semi-annual office cleanings and checkups.
In a similar way, you should address signs of inflammation in your cardiovascular system, including blood pressure management and the control of LDL (bad) cholesterol. Because both gum disease and CVD share many of the same risk factors, you can positively impact both your oral and general health by eating more nutritional foods, engaging in regular exercise and quitting tobacco products.
Treating any symptom of inflammation is important to improving your total health. By bringing gum disease and its accompanying inflammation under control, you may in turn help your heart and blood vessels.
If you would like more information on the relationship between heart and gum diseases, please contact us or schedule an appointment for a consultation. You can also learn more about this topic by reading the Dear Doctor magazine article "The Link Between Heart & Gum Diseases."
Pasadena, CA Dentist
Pasadena Dental Implants
175 S. El Molino, Suite 4
Pasadena
,
CA
91101
(626) 796-1241
Contact For Pricing Options