Posts for tag: dental injuries
By Pasadena Dental Implants Peter G. Cooper, DDS
January 01, 2017
When your favorite baseball team wins, it's hard not to get excited — especially if you're right there in the stadium. It's even better when a player tosses the ball to fans. But sometimes, in the heat of the moment, things can go awry.
That's what happened during a recent game at New York's Yankee Stadium. After catching the ball that ended the game in an 8-2 Dodgers win, Los Angeles outfielder Yasiel Puig tossed it into a cheering crowd of supporters. "I saw it coming at me and I remember thinking, 'I don't have a glove to catch this ball,'" Dodgers fan Alyssa Gerharter told the New York Daily News. "I felt it hit me and I could feel immediately with my tongue there's a hole. And I looked down at my hand and saw there's a tooth in my hand."
Ouch. Just like that, one fan's dream became… a not-so-good dream. But fortunately for the 25-year-old software engineer, things went uphill from there. Ushers quickly escorted her into a first-aid room at the stadium. She was then rushed to a nearby hospital, where the upper front tooth was re-inserted into her jaw. After a follow-up appointment at her dentist's office the next day, Gerharter said she remains hopeful the re-inserted tooth will fuse with the bone, and won't require replacement.
We hope so too. And in fact, she has as good a chance of a successful outcome as anyone, because she did everything right. If you're not sure what to do about a knocked-out tooth, here are the basics:
locate the tooth, handle it carefully (don't touch the root surface), and if possible gently clean it with water
try to open the person's mouth and find the place where the tooth came from
carefully re-insert the tooth in its socket if possible, making sure it is facing the right way
hold the tooth in place with a soft cloth as you rush to the dental office or the nearest urgent care facility
if it can't be replaced in its socket, place the tooth in a special preservative solution or milk, or have the person hold it between the cheek and gum (making sure they won't swallow it) — and then seek immediate care at the dental office
follow up at the dental office as recommended
In general, the quicker you perform these steps, the more likely it is that the tooth can be preserved. How quick is quick? The best outcomes are expected when re-implantation occurs in no more than five minutes. So if you're in this situation, don't wait: get (or give) appropriate first aid right away — it just might save a tooth!
If you would like more information about what to do in a dental emergency, contact us or schedule an appointment for a consultation. You can learn more the Dear Doctor articles "Knocked Out Tooth," and "The Field-Side Guide to Dental Injuries."
By Pasadena Dental Implants Peter G. Cooper, DDS
January 21, 2016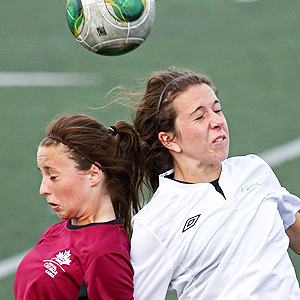 If you regularly participate in sports or other physical activity, you're at a higher risk for dental injuries. While chipped teeth are the most common result of these injuries, a few may result in more serious trauma — dislodged, cracked or knocked out teeth. In these cases, the core of the tooth — the pulp — and the root may have been damaged. Saving the tooth may require endodontic treatment and possibly the expertise of a specialist in the field, an endodontist.
Endodontics, from the Greek words for "within" and "tooth," is a specialty of dentistry that treats disease or damage affecting the inner parts of a tooth, particularly the pulp chamber, the root canals, and the root. While all dentists are trained in endodontic procedures, an endodontist has advanced training, experience and specialized equipment to address complex cases.
The type of endodontic treatment needed for an injured tooth will depend on the extent of damage. A mature, permanent tooth with pulp damage, for example, may require a root canal treatment. In this procedure the pulp chamber and root canals are thoroughly cleaned out, and then are filled with a special filling to prevent any future infection. Later the tooth should be crowned to permanently seal it. Although a general dentist may perform a root canal, more complex cases, such as a tooth with an extensive root canal network, may need to be performed by an endodontist using microscopic equipment.
A tooth that has undergone severe trauma, especially a knocked out tooth, will need extensive follow-up care by a general dentist and possibly an endodontist to improve its chances of long-term survival. Because of the severity, the tooth may lose viability and the body ultimately may begin to reject it. For this reason, the tooth should be monitored on a regular basis and may need further treatment from time to time, even up to five years after the injury.
One final word: if you participate in sports or exercise activity, you can significantly reduce your risk of dental injury with a mouthguard. There are various types, but the best protection is one custom designed to fit the specific contours of your mouth. We'll be glad to advise you further on how to protect your teeth from injury.
If you would like more information on dental injury prevention and treatment, please contact us or schedule an appointment for a consultation. You can also learn more about this topic by reading the Dear Doctor magazine article "Trauma & Nerve Damage to Teeth."
Pasadena, CA Dentist
Pasadena Dental Implants
175 S. El Molino, Suite 4
Pasadena
,
CA
91101
(626) 796-1241
Contact For Pricing Options