Posts for: September, 2014
By Pasadena Dental Implants Peter G. Cooper, DDS
September 24, 2014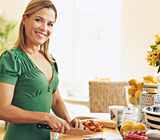 Junk food and between-meal sweets are a habit for many of us, even though we know it is bad for our bodies and our teeth. As adults, we are responsible for our own choices. As parents, we are also responsible for our children's choices, and for teaching them to choose wisely.
Celebrity Chef Cat Cora offers the following six suggestions for leading children to a healthy lifestyle. Cora is a star of Iron Chef America and author of Cat Cora's Classics with a Twist: Fresh Takes on Favorite Dishes, in which she reveals healthier versions of classic recipes. In her remakes she shows how to cook with a lot of flavor while reducing fat and sugar. Cora has four young sons, so her methods are not just theories — they have been practiced in real life.
1. Remember who's the boss.
"My kids have never had fast food," Cora said in a recent interview with Dear Doctor magazine. "The parents have a choice to do that or not," she said. "The kids are not going to the grocery store to shop; the kids are not driving themselves through fast food chains."
2. Make your rules clear and stick to them.
"Right now my 7-year-old tries to be picky, but it's really about us being consistent as parents," Cat said. For example, in her household pizza is served only at the weekly pizza and movie night. The kids get a healthier version of what they want, so they don't feel deprived. The evening includes air-popped popcorn without butter — and no soda, which is bad for teeth because of its sugar and other chemical ingredients.
3. Offer your children a variety of foods and tastes.
Cora made sure her children tried different foods and spices from infancy, so they are open to trying new things. It's easier to get all the nutrition you need if you eat a wide variety of foods.
4. Learn to make tasty substitutions for sugar.
When her children were babies, Cora stopped relying on bottles and sippy cups as soon as possible, reducing her children's likelihood of developing tooth decay due to sugary residues remaining in their mouths. Now that they are older, she uses tasty substitutes for sugar such as fruit purees and the natural sugar substitute Stevia.
5. Include the children in meal planning.
Kids are more likely to eat a meal they are involved in planning and cooking. For example, ask them which vegetable they would like to have (not whether they want to have a vegetable).
6. Model healthy behavior for your kids.
Parents are the best role models. This is true not only for food choices, but also for exercise and maintaining a healthy lifestyle.
Contact us today to schedule an appointment to discuss your questions about oral health. You can also learn more by reading the Dear Doctor magazine article "Cat Cora."
By Pasadena Dental Implants Peter G. Cooper, DDS
September 09, 2014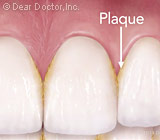 Treating periodontal (gum) disease is rather straightforward: remove the bacterial plaque that causes the disease. The techniques to accomplish this are varied, depending on how far the disease has advanced with an individual patient.
Plaque is a thin film of bacteria and food particles that build up on tooth surfaces due to inadequate oral hygiene. The bacteria that grow there can cause an infection that inflames and damages the gum and supporting bone tissues to the point they begin to lose their attachment to the teeth and form spaces known as periodontal pockets. In time, plaque becomes calcified due to the minerals in saliva, forming calculus or tartar. As the disease advances, it can ultimately cause tooth loss.
The most common technique for interrupting this progression of disease is known as scaling. Using hand instruments and/or an ultrasonic device, we remove as much plaque and calculus as we can detect on the outer surfaces of the teeth and gum tissues. Scaling, however, won't address the plaque and calculus that has accumulated at the tooth root level, especially where pocket formation has taken place. This is where root planing may be necessary.
As the name implies, we use this procedure to literally "plane" plaque and calculus from the roots, a similar concept to removing thin layers of wood from a board. If necessary, we will first numb the affected area so that we can perform the procedure in a meticulous manner without causing discomfort. It's essential we remove every bit of plaque and calculus that we can, especially where it has become lodged deep at the base of the pockets.
It's common to start with ultrasonic therapy, using vibration to loosen the plaque while flushing the pockets with water. We then switch to delicate hand instruments known as curettes to physically remove any remaining plaque and calculus. An experienced touch helps us determine when the root surfaces have been properly cleaned; we can also "read the gum tissues," as they will slightly change color as the offending plaque and calculus deposits are removed. As the gum tissues heal and become less inflamed, they return to a healthy pink color and the pocket depths generally become smaller as the inflammation leaves the area.
While a good portion of the treatment requires our professional skills, equipment and expertise, the bedrock for renewed periodontal health is effective daily oral hygiene on your part. Working together we can preserve the progress already made, while continuing to progress in restoring your oral health.
If you would like more information on root planing and other periodontal disease treatments, please contact us or schedule an appointment for a consultation. You can also learn more about this topic by reading the Dear Doctor magazine article "Root Planing."
Pasadena, CA Dentist
Pasadena Dental Implants
175 S. El Molino, Suite 4
Pasadena
,
CA
91101
(626) 796-1241
Contact For Pricing Options